Certified ITIL® Intermediate SO
25 (Registered)
(0 Review)
Program Overview:
Course objectives.
The Service Operation (SO) module is one of the qualifications within the ITIL Service Lifecycle category of the ITIL Intermediate level. The SO module focuses on coordinating activities during service strategy, design and transition phases of the services lifecycle. This certification is designed for professionals involved in the management of IT service operations.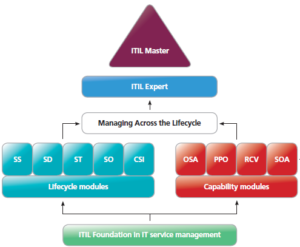 Learning Benefits.
The ITIL Intermediate SO Certification is a key requirement for attaining the ITIL Lifecycle Expert certification and will help you prepare for and pass the ITIL Service Operation exam. This certification prepares IT professionals to successfully manage the performance of their services and products and enhance the quality of IT service management.
After completing this course, you will be able to:
Describe Service Operation purpose, objectives, scope and value to business and the key components of the ITIL library
Explain the involvement of Service Operation staff within other lifecycle stages
Describe the operational activities in other lifecycle stages
Explain how Service Operation is organized and how its functions are structured
List the challenges, critical success factors and risks associated with Service Operation
Exam & Certification : 
How will I become ITIL Intermediate SO certified?
To be eligible for taking ITIL Intermediate SO examination, the candidate must fulfill the following requirements:
Undertake at least 21 contact hours (hours of instruction, excluding breaks, with an Accredited Training Organization (ATO) or an accredited e-learning solution) for this syllabus, as part of a formal, approved training course.
A basic IT literacy and approximately 2 years IT experience are highly desirable.
Hold the ITIL Foundation Certificate in IT Service Management (or other appropriate earlier ITIL and bridge qualifications).
Does the course fee include in examination fees as well?
Yes, the course fee is inclusive of the examination fee.