Certified ITIL® Intermediate SD
25 (Registered)
(0 Review)
Program Overview:
Course objectives.
The Service Design (SD) module is one of the qualifications within the ITIL Service Lifecycle category of the ITIL Intermediate level. The ITIL Intermediate SD certification demonstrates the candidate's knowledge of good practices in the design of IT services, processes, and other aspects of IT service management.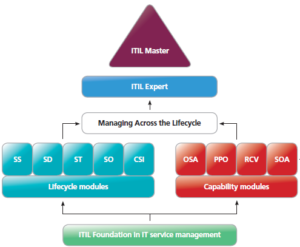 Learning Benefits.
ITIL qualifications set international benchmarks of quality for IT professionals all over the world. Professionals taking ITIL training are encouraged to come up with new ideas and approaches to improve customer satisfaction. They learn to contribute effectively to service delivery in the organization. The value of ITIL has increased sharply in recent years and an ITIL certification is fast becoming an entry requirement for a majority of IT-based roles.
Certified professionals in this field are in constant demand, there are currently more than 5000 certified professionals around the world. Certified professionals can expect to take on job roles such as Capacity Manager, Availability Manager, Service Level Manager, Business Continuity Manager and Service Portfolio Manager.
At the end of Skilltec's ITIL Intermediate SD training, you will be able to:
Understand the purpose, principles and processes in service design
Identify technology-related activities and considerations in service design
Identify how to organize, implement and improve service design
Identify challenges, critical success factors and risks
Exam & Certification : 
How do I become ITIL Intermediate SD certified?
The certification is offered to candidates who fulfill the prerequisites and pass the exam. Our training is certified by AMPG International and PeopleCert, which are both, AXELOS strategic examination institutes.
What are the prerequisites for the ITIL Intermediate SD certification?
The ITIL Intermediate Service Design exam can only be taken as part of an accredited training course. To be eligible for the ITIL Intermediate Module – Service Design qualification, the following requirements have to be met:
A minimum 21 hours of instruction with an accredited training organization (or an accredited e-learning solution)
ITIL Foundation Certificate in IT Service Management (or other appropriate earlier ITIL and bridge qualifications.) 2 years of experience in the field of IT is highly desirable. Candidates should also spend some time reviewing the syllabus and the ITIL Service Design publication to prepare for the exam.
Does the course fee include in examination fees as well?
Yes, the course fee is inclusive of the examination fee.