Certified ITIL® Intermediate PPO
31 (Registered)
(0 Review)
Program Overview:
Course objectives.
The ITIL Intermediate Qualification: Planning, Protection and Optimization (PPO) Certificate is a free-standing qualification and it is also part of the ITIL Intermediate Capability stream leading to the ITIL Expert Certificate in IT Service Management.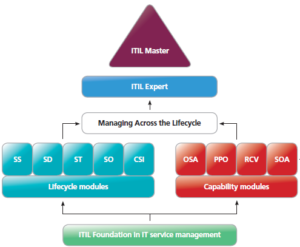 The purpose of this training module and the associated exam and certificate is to impart, test and validate your knowledge on industry practices in service management as documented in the ITIL Service Lifecycle core publications. The ITIL Certificate in Planning, Protection and Optimization is intended to enable candidates to apply PPO practices during the service management lifecycle and specifically in the following key ITIL process and role areas:
Capacity Management
Availability Management
IT Service Continuity Management (ITSCM)
Information Security Management
Demand Management
Learning Benefits.
The ITIL Intermediate Planning, Protection and Optimization (PPO) certification demonstrates your expertise in applying PPO practices to ensure that new and updated services, service management systems and tools, technology architecture, processes and measurement systems, methods and metrics are designed to meet user needs and can be sustained once introduced. ITIL Intermediate PPO certification establishes your knowledge of processes across the service lifecycle pertaining to the practice elements within planning, protection and optimization in the global market.
You will enhance your competency in the following areas over the course of the training, preparing you to pass the ITIL Intermediate PPO certification exam:
Service design in PPO and the service lifecycle context
Processes across the service lifecycle pertaining to planning, protection and optimization
Capacity management as a capability to realize successful service design
Availability management as a capability to realize successful service design
IT service continuity management as a capability to support overall business continuity management
Information security management as part of the overall corporate governance framework
Planning, protection and optimization roles and responsibilities
Technology and implementation considerations
Organizational roles relevant to PPO
ITIL Intermediate PPO course provides a complete management-level overview of PPO and its related activities. Many Leading job websites now say that ITIL Intermediate PPO Certification is a prerequisite for many key roles in the IT sector. Certified professionals can expect take on roles such as information security manager, capacity manager or ITSCM manager.
Exam & Certification : 
How do I become certified in ITIL Intermediate PPO?
The certification is offered to candidates who fulfill the prerequisites and pass the exam. Our training is certified by AMPG International and PeopleCert, which are both, AXELOS strategic examination institutes. Candidates for the ITIL Intermediate PPO Certification are required to undertake 28 hours of professional training before taking the exam.
What are the prerequisites for the ITIL Intermediate OSA certification?
To be eligible for the examination leading to the ITIL Intermediate PPO Certificate, you must fulfill the following requirements:
Undertake at least 28 contact hours (hours of instruction, excluding breaks) with an Accredited Training Organization (ATO) or an accredited e-learning solution as part of a formal, approved training course/program.
Hold the ITIL Foundation Certificate in IT Service Management (or other appropriate earlier ITIL and bridge qualifications.)
2 to 4 years of professional experience working in IT service management is highly desirable. We also recommend that you complete a minimum of 12 hours of personal study by reviewing the course content.
Does the course fee include in examination fees as well?
Yes, the course fee is inclusive of the examination fee.