Description
Program Overview:
Course objectives.
The ITIL® Intermediate Release, Control and Validation (RCV) certification is a freestanding qualification and is also part of the ITIL Intermediate Capability Lifecycle stream and a module in the ITIL Expert qualification in IT Service Management. The ITIL Certificate in RCV is designed to help you apply RCV for successful planning, testing and implementation of new services to meet organizational and user requirements and achieve IT operational excellence.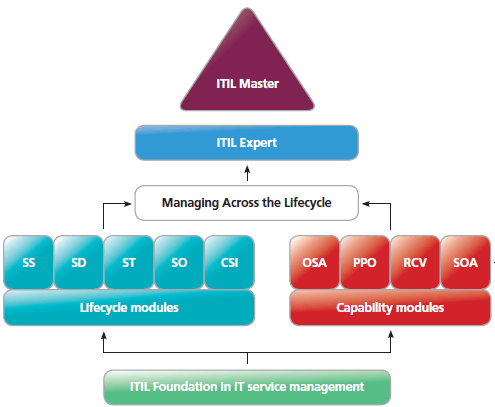 This training module and the associated exam and certificate will test and validate your knowledge of industry best practices in service management documented in the ITIL Continual Service Improvement publication.
Learning Benefits.
The ITIL framework sets international quality benchmarks for IT professionals around the world. The value of ITIL has grown sharply in recent years and an ITIL certification is fast becoming an entry-level requirement for a majority of IT-based roles. This ITIL Intermediate training has a modular structure to provide expertise at every level of the IT service management lifecycle.
The ITIL® Intermediate RCV Certification will demonstrate your competency in release, control and validation of IT services to potential global employers. You will learn to master the principles, objectives, processes, methods and functions employed in RCV and the ways they are integrated in the service lifecycle.
After completing this course, you will be able to:
Describe the organization process for Release, Control, and Validation, including roles,  responsibilities, activities, and functions to achieve operational excellence
Outline how to measure Release, Control, and Validation
Define technology and implementation considerations for Release, Control, and Validation
List challenges, critical success factors, and risks in Release, Control, and Validation
Define terminology related to Release, Control, and Validation
Pass the Release, Control, and Validation certification examination
Exam & Certification : 
How will I become a ITIL® Intermediate RCV certified?
The certification is offered to candidates who fulfill the prerequisites and pass the exam. To qualify to take the exam you must first participate in a course offered through an Accredited Training Organization (ATO) or an accredited e-learning solution. AXELOS (The Accreditor) assess and license Examination Institutes (EIs) to administer ITIL accreditation and examination activities.
What are the prerequisites for the ITIL® Intermediate RCV certification?
To be eligible for the examination leading to the ITIL RCV Certificate, you must fulfill the following requirements:
Undertake at least 30 contact hours (hours of instruction, excluding breaks) with an Accredited Training Organization (ATO) or an accredited e-learning solution for this syllabus as part of a formal, approved training program.
2 to 4 years of professional experience working in IT service management is highly desirable
Hold the ITIL® Foundation Certificate in IT Service Management (or other appropriate earlier ITIL and bridge qualifications.)
Does the course fee include in examination fees as well?
Yes, the course fee is inclusive of the examination fee.