Description
Lean-Agile Mindset:
Course objectives.
The Lean-Agile Mindset is the combination of beliefs, assumptions, attitudes, and actions of Agile leaders and practitioners who embrace the concepts of the Agile Manifesto and Lean thinking. It's the personal, intellectual, and leadership foundation for adopting and applying Agile principles and practices.
Agile has proved to be effective in reducing development cycles, drastically improving quality, eliminating silos within the teams, and making project management easier. However, when we consider the issues agile teams face on the field, some new challenges are emerging:
Making the right products

Delivering more at the end of each iteration

Learning how to better collaborate with the other departments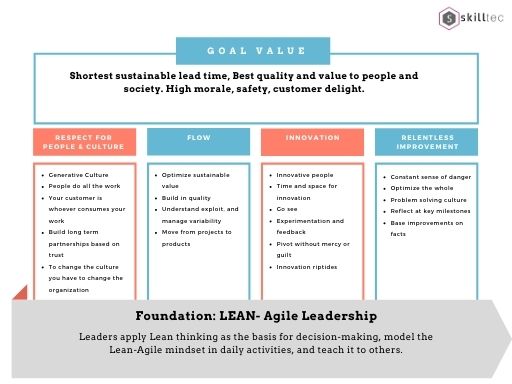 Agile community is constantly exploring and trying out new ideas. Learning Lean can lead to spectacular results in various domains, reason why combining both Skilltec Program can offer a huge opportunity. Lean and Agile are perfectly compatible but very different in nature. Lean is not a process, or a toolbox for improving processes, but a management practice that individuals develop along the years.
Agile strengthens the collaboration and communication between the stakeholders of the project, and creates and environment that helps the teams do a better job at an acceptable pace. This aspect is very close to Lean's "Respect for people". But Lean goes a lot further with the notion of training. Lean believed that the waste we see every day in our organizations is a result of our misconceptions. In Lean, investing in skills development and improving everyone's capacity of judgment is the key to success !
Indeed, Lean is a set of practices and exercises aimed at developing people skills:
The problem solving approach based on the "Plan-Do-Check-Act" cycle helps clarify one's thinking in order to, first, choose the right problems, and second, take decisions based on facts rather than on beliefs.

The two pillars – Just-in-Time and Jidoka – define standard types of problems that people need to solve constantly to improve their skills: work together at the right pace and do everything right the first time.

Writing standards and performing continuous on the job training helps accelerate skills development and spread the know-how, be it at team level or companywide.
These practices perfectly fit in the agile world.
Lean helps develop kaizen on a daily basis, one problem after the other, to make sure that everyone, every day, contributes to the improvement. It is based on a different approach to visual management, the Obeya model, that aims at making problems visible to drive the team to constantly collaborate in order to solve these problems. A kind of "continuous retrospective"
Program Contents.
In this Skilltec Advanced LEAN Agile Program, you will get access to both following certified programs:
SCRUM Agile Master Certified (SAMC) : You'll learn the key concepts of Agile as a project management approach, discover how to lead project management teams, develop and deliver high-quality products, and implement best practices in your organization. The Skilltec SAMC training will position you to be an evangelist and champion in the Agile adoption journey for your organization.
Lean Six Sigma Green Belt Certified (LSSGB): This Lean Six Sigma Green Belt course provides an overview of Six Sigma and the DMAIC methodology,  you will learn how to measure current performance to identify process issues and how to formulate solutions. The LSSGB course is aligned with the certification exams of both leading organizations IASSC & CSSC. [See the Accreditation.]
FAQs : 
Do you provide assistance for the exam booking process?
Yes, we do help you find the nearest location for your exam.
I'd like to learn more about this training program. Who should I contact?
Request a briefing call with our Talent Program Advisor ! They will assist our learners in applying for the right learning solutions, help them building critical skills and help you enrich your learning experience, from class onboarding to project mentoring and career advices.
Who are our Experts and how are they selected?
All of our highly qualified trainers are industry experts with at least 10-12 years of relevant teaching experience. Each of them has gone through a rigorous selection process that includes profile screening, technical evaluation, and a training demo before they are certified to train for us. We also ensure that only those trainers with a high alumni rating continue to train for us.
What is covered under the 24/7 Support promise?
We offer 24/7 support through email, chat, and calls.